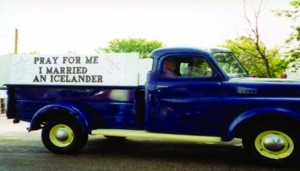 From now on I am going to try to keep up a newsletter. Write about what's is happening on the farm and other things. First, stole this picture of the blog http://www.icelandicroots.com/married-to-an-icelander-icelander-by-marriage-2/
Hope I am forgiven, me an Icelander too. For those who walk around with the feeling, something is rotten in the States of America might be put straight by learning about the state of affairs in Denmark, Scandinavia may not be the Utopia some of you dream about. http://www.theguardian.com/world/2014/jan/27/scandinavian-miracle-brutal-truth-denmark-norway-sweden
Here on the farm it is cold, cold, cold. It always amazes me how the animals adjust, some better than others and I try to breed for the climate here at 2000 feet in central New York. The climate here in the States, from the border of Mexico to Canada, is many temperate zones and some of these animals not from this area. Over the years I think I have been able to select for a type of cattle that does well here, work in progress of course, anticipate, seeing results by my 120th birthday. Same with the pigs, they are outside all winter. I let them have round bales of hay to make nests in. They pile up at night to keep warm and slowly eat their own house. But if I am careful to put more hay out, they never get to finish it. The story should have been, that the wolf not only blew over their house, but that the little three pigs ate it too.
More later. If you like this about a Newsletter, let me know. This website about selling our products, not me, don't want to get in the way
---
Written By
Ingimundur
on
January 28, 2014
Comments Off

on News letter. January 28, 2014.
Posted in:
General