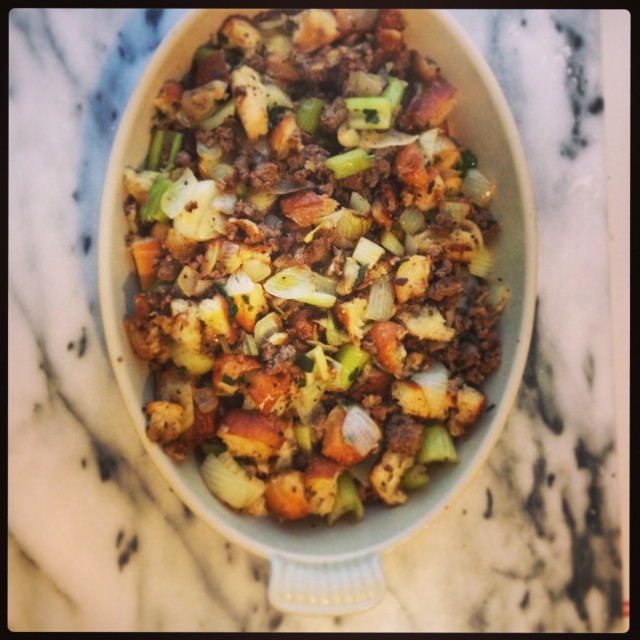 As many of our meatshare costumers know we don't offer sausage in our shares but instead ground pork. We prefer to offer a minimally processed product to you and your family. You can easily make a quick sausage with our ground pork though. Here is a recipe for Ulla's Sage Sausage Stuffing.  We hope you have a lovely thanksgiving! We are thankful for your support.
Sage Sausage Stuffing
For the sage sausage:
1 pound of ground pork, defrosted
1 tablespoon fresh sage (or 1 teaspoon dried sage), minced
1 teaspoon fresh rosemary, minced
1 tablespoon grated onion (optional)
1 teaspoon seasalt
freshly ground pepper
For the stuffing
4 cups of celery (about one bunch), roughly chopped
1-2 large white or yellow onions, roughly chopped
16 oz crusty french bread cut up in 1 inch cubes
handful of fresh parsley, and some sage
1 cup broth or water
Directions:
Combine the ground pork, sage, rosemary , salt, pepper and onion. You can mix the sausage ingredients a few days before or right before make the stuffing, it does get better the longer the flavors can marinate though.
In a large skillet, saute the homemade sausage until it is brown.
Meanwhile, cut up the bread, onion and celery, add to the skillet the onion and celery with the cooked sausage cook until fragrant.
Add the french bread, toss to coat.
Add fresh herbs, roughly chopped
You can bake the stuffing in the turkey or you can use a baking dish on the side if you are baking it outside of the turkey but add some broth or water.
I bake it uncovered until it is crispy on top, along with whatever you have in the oven (for about an hour at 350 but don't change the temp just for the stuffing). You can cover it too if you prefer a soft stuffing.
Enjoy!