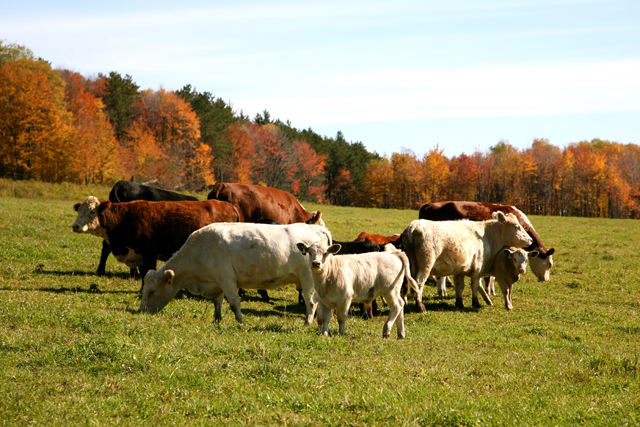 Spring Lake Farm specializes in 100% grass-fed beef, lamb and pastured pork. We offer pasture-raised meats free of antibiotics and artificial hormones. Our lamb and beef are raised and finished  exclusively on grasses from our farm. Our pigs are pastured, but do receive a farm mixed ration, mostly hay and some corn.
Our farm is in Central New York, at the foothills of the western Catskill Mountains in Meredith, NY. Spring Lake Farm takes its name from the lake that it borders.
Breeding has always been important to Ingimundur, and maybe the main reason he is involved with farm animals. He believes we have a duty to preserve our heritage from thousands of years back. Farm animals made us what we are today, a fascinating story.
One of the problems with modern animal breeding, both in farm animals and pets, is breeding for extreme traits. Ingimundur thinks this is immoral. For example, the dairy cow has been bred to produce milk to a point where the cow actually suffers and broilers grow so fast their bones break.Today many breeds are bred for visual appeal which often lead to negative traits that can affect the animals health and vitality. This has been a problem through the ages, both because of ignorance and fashion.
Ingimundur's goals has always been to breed stock that is healthy, vigorous, and self reliant (for example, not needing intervention during birth or having propensity for disease or illness). He also breeds animals suited to the climate.
Ingimundur likes to combine two or more established breed for animals that are best suited to living a healthy (and by that token, we think happy) life in their their environment. He has always worked from the belief that breeding for healthy traits – and culling unhealthy ones from the genetic pool – would result in a line that makes need for medicinal, or hormonal intervention unnecessary.
Visit our Beef, Lamb, Pork pages to see the outlined the breed background of our sheep, pigs, and cattle.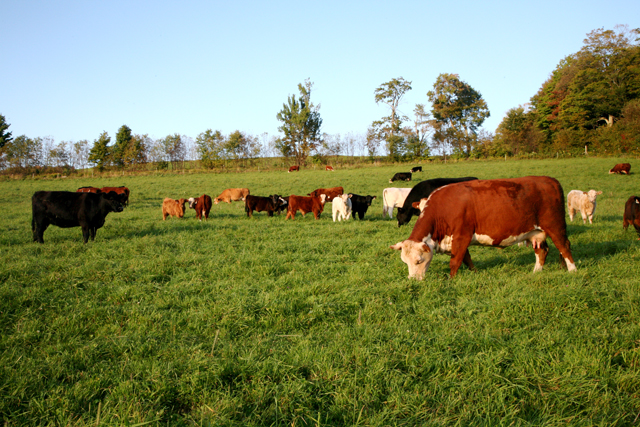 Some FAQS about the Farm:
How long has your farm been in operation?
Our farm began in 1981 in Warwick, NY, where we farmed 100 acres called Cherry Ridge Farm. There we produced wool, rabbits and at one time, a flock of over 300 sheep. In 1996, looking to expand our livestock and acreage, we relocated the farm 1.5 hours north to even more rural Meredith, NY.
Spring Lake Farm is located in an area known historically for its Jersey dairy production. The springs that feed the lake and farm combine with cool Catskills summer nights to produce grass insusceptible to drought, and have allowed us to add hardy cattle and pigs into our farm production.
Can we visit the farm?
The farm is a working farm, so we do need to schedule ahead, but if you wish to pick your meat up directly from us, we will be happy to greet you.
How many miles is your farm from NYC?
'As the crow flies' we are about 120 miles from Manhattan.  However, since we have to drive around some pretty tall Catskill mountains, there are 161 driving miles (according to google maps ). With no traffic, we can make the trip in about 3 hours.