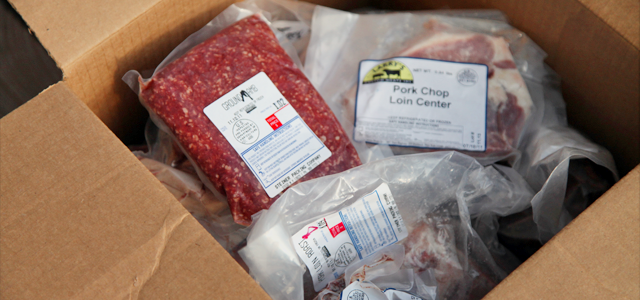 Interested in Placing an Order?
See our Product List and then fill out a order form noting which items you would like to purchase and how much. If you live in the NYC area we will work with you to schedule a delivery date.
It is our goal to provide our customers with a trusted source for local meat. We sell our meat cuts frozen and individually cryovacked (vacuum packed in plastic) . Each package is clearly labeled with the cut name, weight and the name of the local USDA processing facility that the animal was butchered and processed at.
We currently retail the meat at several local independent stores. However for our customers in the New York City area we offer the convenient service of monthly drop-off deliveries*. We also always extend the invitation for customers to pick-up their orders directly from the farm and see our practices firsthand.
Interested in a Custom cut sheet? Coordinating with the processor takes extra time and preparation- therefore we can not submit special cut requests to the processor unless you are buying the whole animal (there are meat share clubs that work with us on this).
Also note that the butcher and the animals size can vary the amount of final cuts – so while a cut sheet will estimate chops or steaks these amounts can change depending on size of the carcass and how it is cut (ie thickness of steaks or chops being a bit bigger or smaller).
How does our purchase get delivered – do we have to pick it up?
You are free to pick up at the farm (although we have to schedule in advance) otherwise we do deliver* to the NYC area.
Do you ship orders?
We don't ship as that requires much more packaging and is costly. It is more efficient for us to pack a group of orders and deliver it ourselves.
How do I get my order Delivered to the NYC area?
If you live in the NYC area and your order meets the delivery minimum* consider joining an existing order delivery day. We try to group up to 10 drop-off address in a day and will work with customers to schedule an effective and efficient drop-off route. Upcoming delivery days are listed on our delivery calendar.  Remember if you don't live in our delivery area – you are always free to pick up your order from the farm yourself.
*Delivery minimum: The delivery order total has to be over $100 per drop-off address . The Delivery minimum only applies to the total sum of orders at one address NOT the individual order total.  For instance  if you host a drop off at your own address, you could group 5 of your friends and families $20 orders together – and still meet the delivery minimum.
**Delivery Fee: Due to higher transport costs, we are now charging 10 cents a mile to any one address, no matter how many orders or amounts to that same address. Consider 'hosting' a drop off  so you can pool the delivery charge with family, friends  or co-workers. We only charge per address  (not by order weight) so if you coordinate with others you can make delivery drop-off an affordable and a social event.  For orders over $500 in New York City we will  absorb the delivery fee. To find the mileage we just Google map the mileage from our address  to yours and  get the miles (our zip is 13753).
[MK-GDC]
How is an order packed? How much estimated freezer space would I need?
We usually pack the order as soon as we get it and store in the freezer till we deliver or it gets picked up. We like 12"x12" boxes, easy to carry. They take about 20 to 30 pounds.
Who processes the meat?
Due to high demand for and rarity of independent local processors we use a few trusted independent processors according to their availability. Our Meat packages clearly states whichever USDA approved local processor it is from. Transparency and trust is paramount to our relationships with our customers.
Why is the meat frozen?
in order to ensure safe storage and transport – our meat is cryo-vacked and frozen at the USDA facility.
What does USDA inspected guarantee?
it guarantees that the processing facility meets USDA standards.
How do you determine the weight?
The actual weight of the cuts all together from one animal is less than the original hanging weight, you pay only for the actual weight. We weigh the cuts when we prepare the order. The hanging weight is only a reference number for us, the meat shrinks while it hangs. Sometimes quite a lot.
Is the lard rendered?
One customer was surprised the lard she bought from us was not rendered (boiled down). She said we should call it pork fat. According to our sources both is correct; however from now on we will say that it is not rendered.
Do you sell to any restaurants, belong to a CSA , farmers market or work with buying clubs?
Stores:
Lucky Dog Farm store Hamden NY.
Good Cheap Food Delhi NY.
Buying clubs:
Meat-share
Restaurants:
Hamden inn.
Farmers market /CSA:
– none as of yet –