We had a delivery this Wednesday the 27th of January. This time I put our first news letter in the boxes, been thinking about it for a long time. Thought I should post it here. In the future I am going to try to post future deliveries here. The next one probably Sunday afternoon February 23th, will keep you informed.
Spring Lake Farm Newsletter. January 27, 2016.
Greetings to all our customers and a happy new year, more importantly thanks for the all the years, without you we would not be farming.
For a long time now I have been thinking about a newsletter, what we are up to and how things are going.
This winter has been kind to us so far, both to us and the animals. This last winter storm skipped us not by much, the north of it maybe 60 miles south of us. We did not get any additional snow, only 4 inches or so on the ground as of now but winter not over. Up here at 2000 feet, the snow usually stays till spring.
Cows are doing fine, the sheep hopefully getting back in shape after years of trouble, coyotes and a disease working through the flock, has been doing it for years but hopefully immunity is setting in. I have a theory the ducks we raise are helping, keeping down a snail carrying a parasite, thereby helping the sheep.
As you maybe know, the policy on the farm is not to use drugs, work with natural immunity and practices that keep the animals healthy. We wouldn't want the coyotes to get sick from eating our sheep would we now?
The poultry is still in the experimental phase but I am hopeful we will have some real production this summer.
Brings me to processing equipment for the poultry and an idea floating in my head for a long time. Lucky dog, a farm store nearby is having a funding event around a new oven. They bake bread from their own wheat and sell the bread in their store. http://www.luckydogorganic.com/
What if we fund the processing equipment through our customers, all funds raised would go towards the equipment. If it was sold, you get your investment back according to how much you put into it, obviously depending on the selling price for used equipment. If it gets traded for better equipment, your part would go into the new equipment. You would then get 5% discount until the loan is payed up. If you order for $100, $5 would go towards the loan. Simple right? Would love some feedback. I looked into crowd funding sites but they take 5%, this would be done between you the customer and the farm, no middlemen.
This winter we have been building a processing space, country kitchen if you will and the first equipment would be a plucker, been plucking by hand. If we are going to do poultry for real, just too much plucking. http://www.cornerstone-farm.com/equipment/processing-equipment/picking/featherman-turkey-plucker/
If you want to take part, let us know and we will work out the details, any amount would work, if a hundred of you own the plucker, all the merrier.
There are different opinions on this on the farm. My thought being, this a way to show our customers what is involved in running a farm like this, get them involved so to speak, feedback welcome.
About our dogs. For decades we have had sheep guardian dogs, Italian maramas from the Abruzzi Mountains and later French Great Pyreneans. This summer we lost both our dogs, old Louis and Piaf, a young bitch. Right away the coyotes moved in and took most of our turkeys, only a handful now left. We then drove all the way down to Georgia this October, forth and back in two days. Left very early in the morning, drove all day, slept in Georgia, picked the puppies up in the morning and drove back home. Zola and Dumas, showing great promise. This is Dumas yesterday, born in August so he is going to be BIG!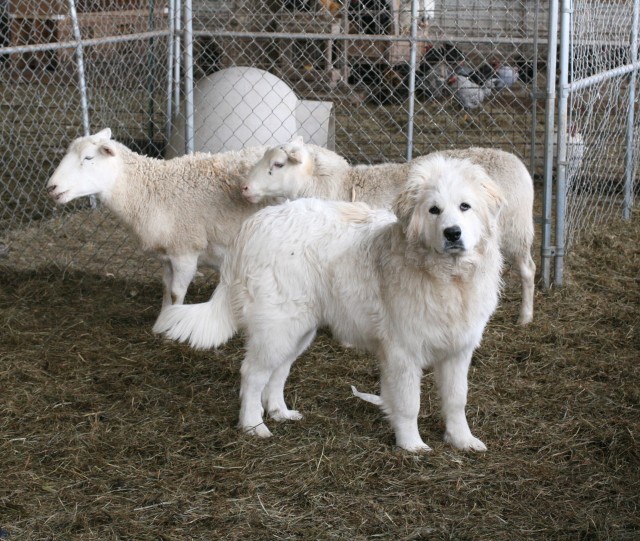 Both comments and trackbacks are currently closed.
---
Date:
January 29, 2016
---
Cat:
General
---
---
Never miss a post:
Subscribe via RSS |
---
Similar posts: