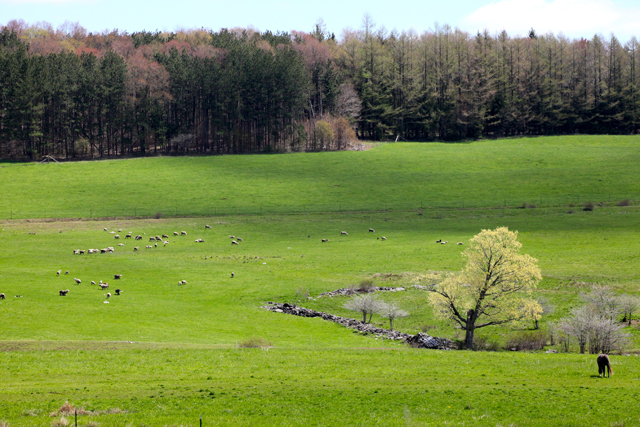 "A community is the mental and spiritual condition of knowing that the place is shared, and that the people who share the place define and limit the possibilities of each other's lives. It is the knowledge that people have of each other, their concern for each other, their trust in each other, the freedom with which they come and go among themselves."
― Wendell Berry
There are many benefits to buying meat from a local farmer. There is the taste; our meats are delicious and have a unique flavor profile. There is provenance; our meats are a reflection of the place the animal was born, the grasses they ate and the season they were slaughtered.  But there are also important economic reasons to buy your food from local producers like us. Our meats are dry aged, by a local butcher, who is paid a fair wage and learned his craft from those that came before him. We invest in our local economy: we employ local upstate New Yorkers, buy farm equipment from local dealers and grain for our pigs from local businesses. We are a local business ourselves.
At the core of all the romance of farming, the beauty, hardships and challenges, is that we are a family business. A small one, reliant on support from our community. When you drive by a farm where cows are grazing you might be lulled into believing that this scene will always be there because it seems so natural, and yes, cows eating grass outside is natural.  However, running a farm is expensive and without monetary support working landscapes aren't economically viable.
Farms add to property values because they are beautiful, but they can also have important financial benefits for communities.  We use far fewer public services and lower property taxes for our neighbors.  One reason for soaring property taxes in our state is that many communities don't have a diverse tax base, lacking farms and a thriving main street. A hundred acre farm uses far fewer community resources than a hundred houses on 1 acre lots.  Many misguided local municipalities have given huge tax subsidies to large chain stores in hopes that they will promote economic activity, but unfortunately the opposite is true.  They hurt small businesses who would otherwise have paid more in local taxes, and this raises taxes for local residents. Believe it or not,  paying more for local food might actually help you save money in the end.
Local food, based on beneficial relationships, could help to fend off industry consolidation that has plagued the meat industry. In the past 30 years, America has lost more than 500,000 family beef ranches, and many contract growers of pork and chicken are caught in a cruel system of diminishing returns, living in debt, with many more losing their farms every year. Consumers lose in this equation too; they get bland, standardized food that doesn't nourish their bodies or their communities. Buying directly from farmers helps us all build a food system together, and it is a tastier food system too!
Both comments and trackbacks are currently closed.
---
---
Never miss a post:
Subscribe via RSS |
---
Similar posts: