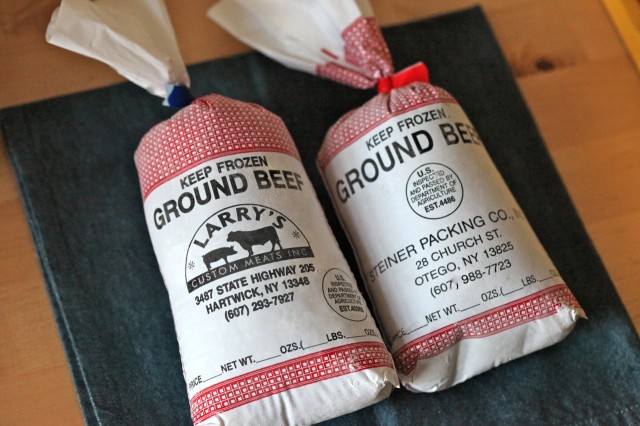 ABC news just did a piece on the meat industry's use of PINK SLIME. The story has been making the rounds via social media sites and everyone is riled up. Rightfully so; if beef is going through a chemical process it should be labeled, and with 70% of grocery store beef containing "pink slime" it might seem like the best choice is to avoid ground beef altogether! Please don't!
Pink slime is an industrial product, but with a thriving local meat scene and more and more farmers selling their meat directly, there are more options for meat that contains single source ground beef. Here at Spring Lake Farm we use two local processers: Larry's Custom Meats and Steiner Packing Company. Both of these small local slaughterhouses grind our meat from single animals and never, ever use pink slime or mix meats from other animals in our meats. Most small processors around the country do this too. So buying from a local farmer or processor will ensure that you aren't eating pink slime or meat from thousands of different animals.
The fact that most ground beef in supermarkets contains pink slime just shows how industrial factories have replaced the art of butchering. It's a sad fact in our increasingly consolidated marketplace. We used to have thousands of local butcher shops, and now we don't.
If you are lucky enough to have a local butcher shop in your neighborhood that sources from local farms and makes its own in-house grind, you can be assured that there isn't any pink slime in their ground beef, although it is best to ask. Or you can order from us! Our next NYC delivery date is March 17th.
Ground beef is one of my favorites. I have dozens of pounds of it in my freezer and it is always there for me when I am craving burgers, meatballs, or meat sauce with whole-wheat pasta—you get the picture. Goodness, do I love burgers! One thing that can't be argued is that meat that is dry aged and comes from grass fed cows has a deep, complex flavor that is unfortunately lacking in industrial hamburgers. I mean, has anyone tasted pink slime on its own? What sort of texture does it have? Is this why commodity burger meat shrinks so much when you cook it?
Granted, it might take a bit of extra effort to find pink slime free ground beef, but there are certainly lots of options out there. The best part of it is that you are investing in a system that isn't lying to you. We just want to provide you with delicious beef that is safe and nutritious!
Both comments and trackbacks are currently closed.
---
---
Never miss a post:
Subscribe via RSS |
---
Similar posts: