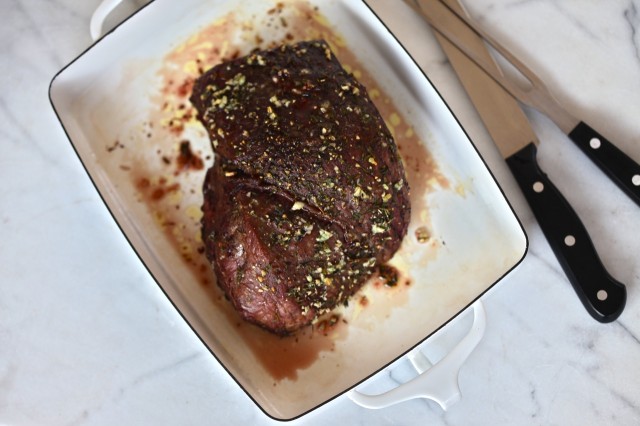 Roasted Sirloin Tip Roast With Garlic and Thyme

An adventurous spirit is possibly the best ingredient when learning to cook the "whole beast," but there are tools to help you better enjoy the bounty of our farm. An enameled Dutch oven for braising is recommended and a cast iron skillet is ideal for frying up steaks, chops and bacon. We are fans of Chinese cuisine here at Spring Lake Farm and find our wok to be indispensable. A good knife is a cook's friend too, and a large metal bowl is excellent for defrosting cuts of meat in a water bath.
We are avid cooks and enjoy using our meats in a variety of dishes and cuisines.   Eating the whole animal not only respects the life of the animal; it is also delicious, healthy, economical and might take you down a culinary path you would not have otherwise been introduced to. Livers from our cows and pigs are nutrient dense and delicious. Beef shins are completely amazing. Lamb tongue has a surprisingly addictive texture. Pork rind when braised is lusciously appetizing.
Here are some tips on how to cook our different cuts.
Braising Cuts:
Beef: chuck roast, bottom round roast,  stew meat, short ribs, shanks, brisket, sirloin tip roast(also can be roasted)
Lamb: stew meat, lamb shoulder roast(can be roasted), lamb shoulder chops (can be grilled and baked), tongue, riblets
Pork: shoulder and butt(both can be slow roasted), rind, hocks, head, shins
Grilling Cuts:
Beef Steaks: sirloin, t-bone, porterhouse, flat iron, rib eye, rib steaks, top sirloin, filet mignon, NY strip and grass-fed beef burgers
Steaks that benefit from marination: chuck, London broil, flank, skirt steaks, kebabs
Lamb: shoulder chops, loin and rib chops, boneless leg of lamb, lamb speedies(or kebabs), filet, lamb ribs, lamb burgers
Pork: pork chops, pork burgers, sausages and ribs
Pan Frying Cuts

Beef Steaks: sirloin, t-bone, porterhouse, flat iron, rib eye, rib steaks, top sirloin, filet mignon, NY strip, chuck steak, flank, skirt steaks and burgers
Lamb: loin and rib chops, lamb burgers, milk soaked kidneys, tongue(also wonderful braised)
Pork: chops, burgers, bacon and ham slices
Broiling (similar to grilling)
Some standout broiled meats are London broil, marinated sirloin steak, pork chops and marinated lamb shoulder chops
Roasting Cuts:
Roasts can be luxurious, but there are many frugal and outstanding roasts like the eye round roast and the sirloin tip roast(which is pictured) that can be equally satisfying.
Beef: Standing rib roast, tenderloin roast, sirloin tip roast, eye round, top round, bottom round.
Lamb: Leg of lamb, rack of lamb roast(rib roast), Lamb loin roast, lamb fillet, saddle roast, shoulder roast, shoulder chops.
Pork, Loin Roast, Rib Roast, Shoulder and Butt Roast, Pork Chops, Smoked Ham.
Stir Frying
Have left over steak? Braised meats? Use them in a stir fry! Fresh or smoked bacon is excellent in a stir fry with leeks and a bit of hot sauce and soy sauce! Sliced steak and pork loin are wonderful in Asian stir fries. Ground beef and pork are also excellent in mapo tofu and Chinese cellophane noodles with ground pork.
Curries and Stews
You can use many of the braising cuts in curry. For a special-occasion curry you can de-bone a leg of lamb. In Iceland they use leftover roasted leg of lamb in a pan fried curry, which is so simple and good!
Pasta and Noodle Dishes
Ground beef, pork and lamb are surprisingly versatile and can be used in many noodle dishes.
Some recipes. Rice Noodles with Grass-fed Ground Beef, Onions, Green Peppers and Sichuan Peppercorns
Cooking with Leftovers
Cellophane Noodles with Short Ribs and Wild Mint
Both comments and trackbacks are currently closed.
---
---
Never miss a post:
Subscribe via RSS |
---
Similar posts: