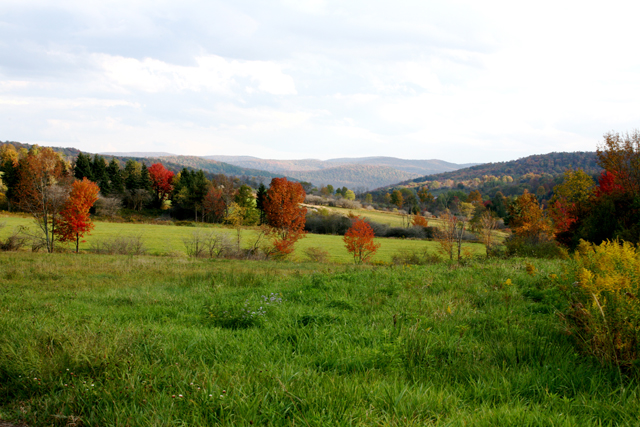 Most of the Northeast has thin rocky soil due to ancient glacial movements, leaving our land ill-suited for growing grains, but excellent for grazing. For this reason, Vermont and New York have traditionally been known for dairy.  However, because of industry trends that favor "dry lot dairies" out in desert states where thousands of cows are housed in CAFO's without access to pasture, New York dairy farms have had a hard time competing; as a result, there are over 3 million acres of fallow pastureland in the state alone.  New York State has seen a dramatic decline in  pasture-based dairies in the last fifty years. Since 1950, over 5,000  of its dairy farms have gone out of business.  Delaware County has lost almost 30% of its dairy farms in the past 5 years alone, and regrettably we are the last working farm on our county highway.
New York Agriculture suffers also from an urban populace that hasn't cared about its farming community, and our policy makers and advertising brains haven't done much to protect and promote our agricultural heritage. Whereas Vermont has helped to brand its farms and particularly its cheeses, helping its farmers with strategic policies, New York has done little.
Spring Lake Farm has been a working farm for almost 200 years, and had cows on its pastures for hundreds of years. We are proud of the fact that we are continuing New York's grazing tradition by offering grass-fed beef and lamb, and pastured pork.
Even by Northeast standards, the soil of Delaware County is famously rocky, and our mountain pastures aren't really suited for anything but grazing animals.  There is an old saying, "two stones for every dirt," and the picture above demonstrates how shockingly little topsoil we have. John Burroughs, an influential 19th century naturalist and writer, grew up on a dairy farm in Delaware county, and described our unique topography in an 1870's essay: "a high pastoral country lifted into long, round-backed hills and rugged, wooded ranges by the subsiding impulse of the Catskill range." Burroughs noted that it was ideal for pasture but failed to mention that it was not good for anything else. Our thin layer of red clay topsoil is so rocky it is almost unbreakable with a plow. Our best crop is grass, and our cool, moist summers  are perfect for grazing cattle.
A Cornell study found that there are almost 3 million acres of unused pastureland in New York State, which is reason alone for New Yorkers to not only purchase meat and dairy from local farmers, but do more to support a thriving local food system with policy and advertizing initiatives.
Despite the fact that New York agriculture has had to survive in an economically and politically unfriendly environment, we  have many assets.  One is that we are also blessed with abundant pure water. Spring Lake Farm is named after a 30 acre spring-fed lake. Our summers are cool and grass excels in the area. Many of our pastures have springs of their own, and all of our water comes from our farm, so we don't need to irrigate.
There has been a lot of emphasis on eating less meat or no meat at all in the current food movement, and it's confusing when people in New York City talk about how plant based diets are better for the environment. This is a perfectly valid personal choice, but here in New York our ecology makes eating meat and animal products an environmentally sound choice:  we have plentiful water, almost 3 million acres of unused pastureland, and a local agricultural economy that is suffering. It is frustrating when complex issues are over-simplified, and this is definitely true in the case of meat.  All foods have an impact on our environment and economy.  Produce can have an ecological impact, requiring irrigation in places where water is scare and human labor that can be exploited to pick it. Now, I don't mean to say stop eating vegetables, but the fact that meat gets singled out by many isn't fair. Cooking more, doing research and sourcing with thought is far more of a game changer than excluding one food group.
With an increased interest in local and organic food, we believe we can remain a working farm. This is our hope, but we need the support of New Yorkers just like you.
Both comments and trackbacks are currently closed.
---
Date:
January 10, 2012
---
Cat:
General
---
---
Never miss a post:
Subscribe via RSS |
---
Similar posts: