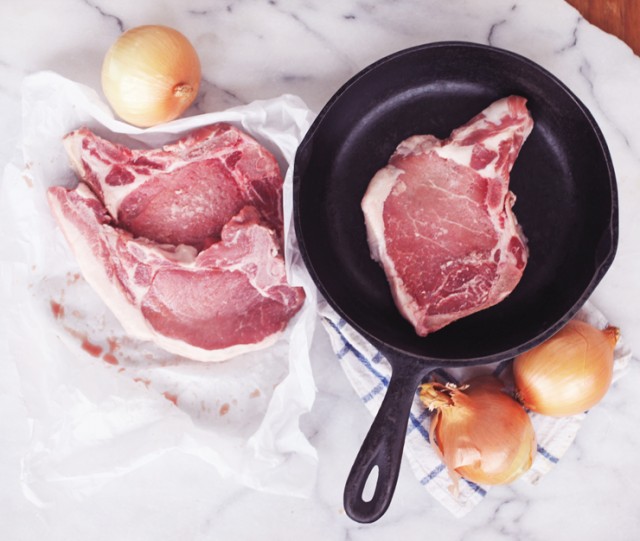 "85% of the cooking happens on the farm, the chef only makes up the other 15%." -Alice Waters
We are very proud of our pork chops and enjoy them grilled in the summer, and all year long either pan seared or broiled. Our pork is full of old-fashioned flavor, with delicious fat and savory meat.
You can use our pork with most recipes; just keep in mind that our pork isn't as lean as the variety you will find at the grocery store and has a lot more flavor. Our pigs eat a lot of grass and graze and forage all spring, summer, fall,  and even winter if there is no snow.  Their winter ration is also largely made up of hay(between 60-70%) which gives them a delicious flavor. Because our pigs eat so much grass, our pork shares many of the health benefits that 100% percent grass fed meats provide.  We also do not use antibiotics or any artificial hormones or growth stimulants.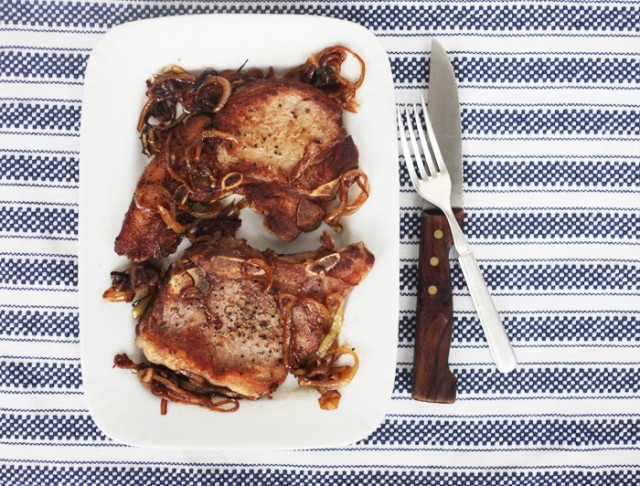 Here we pan seared our pork chops and served them with caramelized onions. So simple and so good!
Treat a pork chop like it is a steak! For the most delicious pan-seared pork chop…

Make sure your pork chop is fully defrosted.
Pat the pork chop dry, bring it to room temperature and season  liberally with salt and freshly cracked pepper.  Heat a heavy bottomed skillet, preferably cast iron, at a high heat and add lard (to cover pan) or another heat tolerant oil like bacon fat or cold-pressed olive oil.  Heat until the pan is nicely hot.
Don't crowd the chops. At a high heat, sear (there will be noise!) for 2 minutes on each side, watching out for spatters—if you have a grease shield use it, and if you have an apron don it; you want the chops to be beautifully browned.
 Reduce heat to medium, cover the pan and cook the chops until they are cooked through, flipping once more to cook for about 2-6 minutes depending on thickness.
The chops should be firm when pressed with a spatula. Please note that pastured pork will have a firmer texture because of the pigs free range lives.  If you aren't confident in monitoring the doneness with touch, you can use a thermometer to make sure the internal temperature is between 145 and 150 degrees F.
Let rest at least 5 minutes before eating.
 Caramelized onions are the perfect accompaniment and can be fried while you let the chops rest. So simple and so good! Enjoy!
Credits
Photography: Ulla Kjarval
Food Styling: Ulla and Melkorka Kjarval
Prop Styling: Melkorka Kjarval
Both comments and trackbacks are currently closed.
---
---
Never miss a post:
Subscribe via RSS |
---
Similar posts: