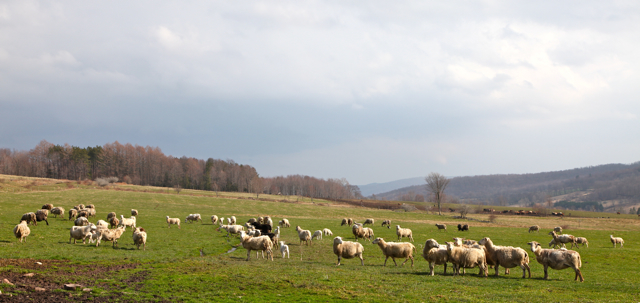 "Until man duplicates a blade of grass, nature can laugh at his so-called scientific knowledge."
                                                                                                                                                     – Thomas Edison
Our meats are a reflection of our farm: healthy animals, pastures and pure spring water. Spring Lake Farm has been a pasture-based farm for well over 200 years, and we are carrying on this grass tradition with pride. There are many reasons that grass-based farming is better for the environment, and pastured, grass fed meats are also better for your health.
No unnecessary drugs.
We farm in a way that works with nature, not against it, so drugs aren't necessary. We breed for health and mothering ability.  We do not use artificial hormones or antibiotics. There are many reasons not to use antibiotics, and with 80% of antibiotics in the United States used in animal agriculture, we are committed to being part of the solution and not the cause of antibiotic resistance. We do not want to live in world where antibiotics no longer work. We also do not use artificial hormones, which have been tied to cancer and particularly, breast cancer.
Our meat is a healthy, pure whole food.  We believe that giving animals unnecessary drugs when they will be consumed by our family and yours is an unnecessary risk.
There is science supporting the fact that grass-fed meats are superior in their health benefits. As Icelandic-Americans, this is proven by our family history; our ancestors thrived on a diet high in grass-fed animal fats and protein. The Icelandic diet traditionally lacked vegetables but was high in fish, grass-fed dairy products and lamb, and Icelanders have enjoyed one of the longest life expectancies in the world. Their diet was an ecological reflection of their resources, and we believe that grass-fed beef and lamb is an ecological reflection of our land resources too. Eating in a way attuned to nature is also good for our health.
Grass-fed meats are higher in heart protective omega 3 fatty acids and lower in harmful omega 6 fatty acids (like trans fat) than grain-fed meats.  Studies have found that people who have diets rich in omega 3 fatty acids have a 50% less chance of heart attack.
From Eat Wild:
"The reason that grass-fed animals have more omega-3's than grain fed animals is that omega-3's are formed in the green leaves (specifically the chloroplasts) of plants. Sixty percent of the fat content of grass is a type of omega-3 fatty acid called alpha-linolenic or LNA.

When cattle are taken off grass and shipped to a feedlot to be fattened on grain, they lose their valuable store of LNA as well as two other types of omega-3 fatty acids, EPA and DHA.  Each day that an animal spends in the feedlot, its supply of omega-3's is diminished."
This might help to explain why Icelanders thrived on a diet low in vegetables. It is likely that their livestock were harvesting vitamins and essential nutrients for them in the abundant grasslands available in Iceland.
Both comments and trackbacks are currently closed.
---
Date:
January 10, 2012
---
Cat:
General
---
---
Never miss a post:
Subscribe via RSS |
---
Similar posts: